2007
Gold: The New York Times for "A Toxic Pipeline" by Walt Bogdanich and Jake Hooker, who documented China's role in supplying a counterfeit drug ingredient that killed at least 100 people in Panama and is suspected of killing thousands of others around the world.
Silver: The Baltimore Sun for "On Shaky Ground" by Fred Schulte and June Arney, who tracked how Baltimore's arcane system of property fees initiated in Colonial times had evolved into a system of greed and lax oversight that preyed on the poor and elderly.
2008
Gold: BusinessWeek for "Prisoners of Debt" by Robert Berner, Keith Epstein, Brian Grow and Geri Smith, who revealed how large financial firms regularly collaborate with doctors and hospitals to turn unpaid medical bills into high-interest consumer debt.
Silver: The Seattle Times for "The Favor Factory" by Hal Bernton and David Heath, who uncovered thousands of purchases that the U.S. Congress has forced the military to make in recent years, including a $4.5 million Navy vessel that sits unused by a Seattle pier.
2009
Gold: The Miami Herald for "Borrowers Betrayed" by Jack Dolan, Matthew Haggman and Rob Barry, whose nine-month investigation and resulting series uncovered poor oversight by Florida mortgage regulators that permitted thousands of individuals with criminal records to conduct business in the state's home loan industry.
Silver: Bloomberg Markets for "AARP's Stealth Fees" by Gary Cohn and Darrell Preston, who found through public documents and scores of interviews, that the world's largest organization for seniors collects hundreds of millions of dollars annually from insurers who pay for AARP's endorsement of their policies.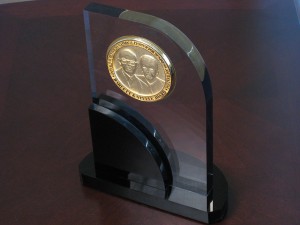 2010
Gold: Reuters for "Diagnosed with Breast Cancer, Dropped by Insurer" by Murray Waas, whose four-month investigation revealed that a giant health insurer had targeted policyholders recently diagnosed with breast cancer for aggressive investigations with the intent to cancel their policies. An exhaustive study of records, hearings and federal data, as well as dozens of interviews with experts, officials and patients led to the story.
Silver: Milwaukee Journal Sentinel for "Side Effects: Money, Medicine and Patients" by John Fauber, whose stories uncovered conflicts of interest that can compromise a doctor's judgment. An example was a surgeon receiving millions of dollars in royalties annually from a medical device company while serving as editor of a medical journal that published favorable research on the company's projects.
2011
Gold: The Arizona Republic for "Public Pensions, A Soaring Burden" by Craig Harris. The series focused on questionable public-pension practices and their cost to taxpayers. The project, which involved 67 public-records requests, uncovered elected officials making more in retirement than when they were employed and pensions paid to convicted felons removed from office for official wrongdoing.
Silver: Milwaukee Journal Sentinel for "A Case of Shattered Trust" by Raquel Rutledge and Rick Barrett. The series revealed how a firm with a decade of serious regulatory violations of sanitary conditions was allowed to operate while the Food and Drug Administration did nothing. As a result of the stories, the FDA revealed the name of the bacterium that it found in the manufacturer's contaminated alcohol wipes. Following a permanent federal injunction against the firm, the product is no longer manufactured.
Bronze: The Seattle Times for "Seniors for Sale" by Michael J. Berens. The series investigated the growing trend toward seniors being moved from nursing homes into less expensive "adult family homes." The investigation uncovered more than 230 deaths that indicated neglect or abuse in these homes but were not reported to the state. (The bronze award was added in 2011.)
2012
Gold: "Vast Mexico Bribery Case Hushed Up by Wal-Mart after Top-Level Struggle," by David Barstow of The New York Times, received the top gold award of $5,000. Barstow obtained hundreds of confidential documents and interviewed important players in the company's internal inquiry. He discovered Wal-Mart had received powerful evidence that its Mexican executives used systematic bribery payments totaling more than $24 million to obtain zoning rulings and construction permits.
Silver: "Ghost Factories," by lead reporters Alison Young and Peter Eisler of USA Today, received the silver award of $2,000. The series involved a 14-month investigation that revealed locations of more than 230 long-forgotten smelters and the poisonous lead they left behind. Reporters used handheld X-ray devices to collect and test 1,000 soil samples to prove there was a serious threat to children living in dozens of neighborhoods.
Bronz: "Prognosis: Profits," by Ames Alexander, Karen Garloch, Joseph Neff and David Raynor, received the $1,000 bronze award for a joint project of The Charlotte Observer and The (Raleigh) News & Observer. Reporters dissected finances of large institutions through documents and sources to paint a compelling picture of nonprofit hospitals that function as for-profit institutions—often to the detriment of their care and charity missions. Discovered were inflated prices on drugs and procedures, lawsuits against thousands of needy patients and minimal charity care to poor and uninsured patients.
2013
Gold: "America's Worst Charities,"by Kris Hundley and Kendall Taggart in a joint project of the Tampa Bay Times and The Center for Investigative Reporting, received the top gold award of $5,000. Reporters identified charities that steered as much as 95 percent of donations to boiler-room operations and direct-mail companies, leaving only a token amount to help those in need. They assembled interactive databases to help readers examine the worst 50 charities and state enforcement actions against thousands more organizations.
Silver: "The United States of Subsidies," by Louise Story of The New York Times, received the silver award of $2,000. The project tabulated the $80 billion that local governments dole out to corporations each year in tax breaks and other business incentives – expenditures to recruit and keep businesses that may or may not produce results. Story methodically contacted revenue departments and agencies that administered incentives to compute the total cost to taxpayers that had never been compiled before.
Bronze: "Inside Game: How Corporate Insiders Profit Ahead of the Public," by Susan Pulliam, Rob Barry, Michael Siconolfi and Jean Eaglesham of The Wall Street Journal, received the $1,000 bronze award. More than six months went into creating a database to examine how more than 20,000 corporate executives traded their own companies' stock over the course of eight years. It revealed that more than 1,000 executives had generated big profits or avoided big losses. The FBI and SEC launched investigations the day after the initial article.
Honorable mention: "iTheft," by Gerry Smith of The Huffington Post, traces the growing and dangerous trail of stolen iPhones, iPads and other connective devices to a global distribution network that nets an estimated $30 billion annually. Citing the articles, top-level law enforcement officials have pressed manufacturers to add a "kill" switch to their devices that would render them inoperable after they are stolen.
2014
Gold: "Temp Land," by Michael Grabell of ProPublica, received the top gold award of $5,000. Grabell and the ProPublica research team found that major companies are increasingly turning to temporary workers to fill the most dangerous and dirtiest jobs in their factories, warehouses and processing plants. This exhaustive analysis of millions of workers' compensation claims and accident reports found that temps are hurt at rates as high as six times that of regular employees. It led to changes in temp agency practices, numerous investigations by authorities and a nationwide data collection initiative by the Occupational Safety and Health Administration for the purpose of tightening lax rules.
Silver: "The Child Exchange," by Megan Twohey of Reuters, received the silver award of $2,000. The stories uncovered a clearinghouse of children through a cluster of little-known Internet bulletin boards where parents sought to get rid of children they had adopted overseas. Twohey and her colleagues documented illicit child-custody transfers by tracking thousands of transactions in which children were passed along to strangers, thereby bypassing judges and social workers who serve as the safety net to protect kids. Since the investigation, several states have enacted new restrictions on child advertising, custody transfers or both. Twohey testified before Congress and a four-agency Government Accountability Report was formed.
Bronze: "Hospice Inc.," by Ben Hallman and Shane Shifflett of The Huffington Post, received the $1,000 bronze award. Their nine-month investigation, consisting of both interviews and data-gathering, found that the average U.S. hospice has not been inspected in a number of years. In addition, families are often subject to fraud and abuse as they are misled about the nature and costs of hospice. One result of this work, Hospice Check, is a research tool available for use by journalists and researchers.
 2015
Gold: "Fish Slavery," by Robin McDowell, Margie Mason, Martha Mendoza and Esther Htusan of The Associated Press, received the top gold award of $5,000. At considerable personal risk, reporters interviewed captive Burmese slaves on a remote Indonesian island to expose labor abuses by a Thai fishing industry that ships its cargo to major U.S. supermarkets and pet food companies. By satellite they also monitored shipments to a Thai port to determine which private companies were responsible. As a direct result of their reporting, 800 slaves were freed and suppliers were fired by the biggest Thai seafood company. In addition, U.S. business groups lodged protests with the Thai and Indonesian governments and an Indonesian government investigation resulted in arrests.
"This was a gripping story with great reporting, and especially noteworthy was how careful the reporters were with its outcome by protecting the names of the slaves as they interviewed them and then notified authorities," said the judges, who commended the bravery of the journalists. "Use of video helped to bring the story home, while the use of satellite indicates how even the most difficult stories can be covered anywhere in the world."
Silver: "Unchecked Care," by Christopher Serres and Glenn Howatt of the Minneapolis Star Tribune, received the silver award of $2,000. The series explored dramatic growth in home-health agencies due to policies that encourage frail and elderly patients to receive care at home rather than at hospitals and nursing facilities. It found erratic home-care agencies leaving fragile patients without care for extended periods; nursing aides with inadequate training undertaking risky procedures; and for-profit care franchises using aggressive sales tactics. Since home-care agencies are unlicensed in Minnesota and most states, there are almost no regulatory documents or data. The stories prompted state regulators to accelerate background checks on home-care aides and intensify monitoring.
"This comprehensive series gave early exposure to a big problem that is going to get bigger as the baby boomer generation continues forward," said the judges. "It also underscored the situation in which cash-strapped states have no money for increased regulation."
Bronze: "Dying for Care," by Pat Beall of The Palm Beach Post, received the $1,000 bronze award. This six-month investigation of prison inmate medical care by for-profit companies found soaring fatalities; indifferent medical treatment; and a corrections agency and a billion-dollar corporation that hid data on death and negligent care. Beall spent months trying to obtain death data from the state, which delayed and denied access to records, then lied about their existence. Inmates feared retribution; mail between Beal and inmates often disappeared; and court monitoring reports were heavily redacted. Inmates with fatal cancers were treated with Tylenol, medicines were abruptly discontinued and surgeries were delayed. The series prompted the Florida Department of Corrections to enact fines; cancel company contracts; and post mortality data online. High-level resignations within the department and governor's office also followed.
"A prison sentence should not be a death sentence, and people were dying while a company had been paid to care for them," said the judges. "This powerful story that represented people who otherwise had no voice is another example of states going broke and trying to shed costs."