By Moni Oyedepo
As time progresses and American society matures, each generation develops fewer and fewer pioneers due to the hard work and sacrifices of those before them. Journalism is no exception as the field continues to evolve and publications continue to grow and die out.
The hard work of a true journalism pioneer, Robert Bleiberg, helped improve Barron's and helped advance business journalism to what it is today.
Born in Brooklyn in 1924, Bleiberg spent a significant amount of his life in The Empire State. All of his formal education resided in the state as he graduated from Townsend Harris High School in New York City, received an undergraduate degree from Columbia University and a master of business administration from the New York University Graduate School of Business.
Before his career as a journalist blossomed, Bleiberg was drafted to serve his country. He was listening to the radio when he heard the Japanese bombed Pearl Harbor; soon after he found himself as a rifleman in Okinawa, Japan. When he returned, he was a hardened veteran of World War II who contracted a debilitating disease in the Philippines.
After his time in the war, Bleiberg went to work for Pruden's Digest of Investment and Banking Opinions as the associate editor in the late 1940s. This eventually led to his long tenure at Barron's.
With an interest in Wall Street, Bleiberg began writing editorials for Barron's in 1946 – in particular for the "Investment News and Views" segment. In 1954 he became the editor of the publication and held the title until 1981. Bleiberg acquired this position after his mentor, John Davenport, left Barron's to be the assistant managing editor at Fortune magazine.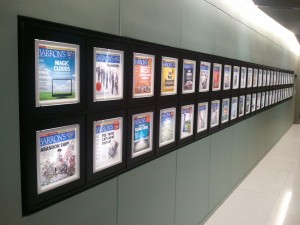 Fellow journalist James Grant remembers Bleiberg being nervous to take the position as he did not think he was qualified. As editor, he read everything that appeared in the weekly periodical, while still maintaining his weekly column. During his 27 years as editor, he helped the circulation grow fivefold to its peak of nearly 300,000 subscriptions.
Barron's credits a lot of its current success to Bleiberg's determination and drive. According to Grant, "Bleiberg wrote on stocks when the world could care less." Bleiberg is credited with popularizing the technical analysis of stock trends, according to his mentee and friend, John Mauldin.
Former Dow Jones & Co. CEO Warren Phillips described Bleiberg as a conservative, vigorous writer who was in defense of the free market. So conservative were his ideals that many other journalists viewed him as a right winger. "A crusader of business journalism, Bob was committed to what he was doing. This was a calling for him," stated Phillips fondly.
For example, when Bleiberg heard of President Kennedy's assassination and the effects that it had on the nation, he prepared to cover the crisis that would ensue over the markets from the news. He became outraged when the New York Stock Exchange suspended trading because of Kennedy's death.
He bellowed something along the lines of a crisis is exactly when the markets need to be able to operate most freely, reported Christopher Cox. Legend has it that Bleiberg tore his phone from the wall and threw it on the floor when the announcement was made. However, Alan Abelson, successor to Bleiberg at Barron's, clarified that a phone was never thrown – but his fury was quite evident.
Bleiberg did not shy away from conflict or lawsuits – of which he faced many during his time. Abelson, managing editor and columnist during Bleiberg's tenure as editor, wrote many pieces on the establishment and wrongdoings of companies that led to lawsuits against Barron's.
The publication never settled a case – Bleiberg knew it was reporting the truth, and if it started the practice of settling, it would always find themselves in a lawsuit.
According to Phillips, a young Rudolf Giuliani — before becoming an attorney general he was a lawyer at Patterson, Belknap, Webb and Tyler — defended Bleiberg and Abelson against a company that complained that it lost money due to Abelson being in "cahoots" with short sellers and advancing column information to them. Giuliani ultimately won the case, and others like it, because there was no real basis to the case.
Standing at 6'1" and more than 200 pounds, Bleiberg was a formidable character. He helped Barron's create a voice for the conservative side – as there was an overwhelming majority of liberal voices during his time.
Bleiberg stood for a true-blue free market and individual liberties. A consistent critic of the Federal Reserve and supporter of the gold standard, he was always an advocate of diminishing the federal government.
A victim of leukemia, Bleiberg died at the age of 73 in 1997 in New York Hospital.
Moni Oyedepo is a senior business journalism and political science double major who will be a communications consultant for Booz Allen Hamilton upon graduation in May 2013.