By Margarita Phannavong
Margarita Phannavong is a native of Charlotte, N.C., and a journalism major in the class of 2013 at the University of North Carolina at Chapel Hill.
As a graduate fresh out of Tarrytown"s Washington Irving High School in 1942, Dorothea Brooks, also known as Dottie, received a phone call that would eventually lead her to becoming UPI's first female business editor.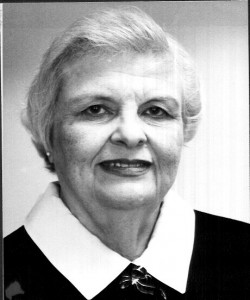 Brooks' high school superintendent had recommended her to the local newspaper for a job opening.
"I didn't know what I wanted to do after graduation, and my dad just couldn't afford college… Under the circumstances, my life just fell into place," Brooks said.
So, Brooks took the job at Tarrytown Daily News as the society editor.
After working there, the building that had been vacant next door to the newsroom suddenly became occupied and Brooks was curious to see who had moved in — it was the Tensolite literary agency. After denied a raise at the local paper, Brooks decided to work part-time for both the newspaper and literary agency as a secretary.
She worked for both companies until going to work at United Press in 1945.
"Since the war began, companies were eager to hire," Brooks said. Having a few years of editorial work under her belt from Tarrytown's local newspaper, Brooks found herself going into UP as a newsman but would also need to partake in many clerical jobs as well.
Brooks would pick up the rewrite copy that was to be written from a news release, originally assigned to financial reporter Charlie McKillop. He was prone to taking long lunches. After writing, Brooks would then sign off with McKillop's initials and later check to see how they were edited.
Brooks noticed that she was listed as a third-year clerk instead of a first-year newsman. The pay of $35 a week was the same but the title of "newsman" is what she expected to have, especially with her dedication to the business. Prepared to quit, she went to her financial editor, Elmer Walzer, and asked if she was a newsman or a clerk. Walzer directed her to L.B Mickel, the superintendent of bureaus.
"I went charging down the hall to Mr. Mickel, sputtering I'm sure. But he said 'Dottie, that's entirely up to Elmer!'" she went back down to Elmer "he was standing in the middle of the office there with about 40 people and I said, "Mickel said it's up to you! So which is it?" The answer from Elmer – she was a newsman – led her into the next 40 years into financial journalism.
Ambition like this is what drove Brooks to being an activist for woman in a time when men dominated the financial news world.
Her persistent but kind personality made her a well-respected journalist.
"At the end of the war – men were coming back to their jobs and women were let go – but two. I was one of them," Brooks said. "I later asked Elmer why he kept me and he said 'because you're good!'"
"She was just always kind," longtime friend B.L Ochman said. "This is a woman who no matter what was going on she was always trying to help. She was one of the loveliest people in a profession where everyone was really harsh. She felt everyone should be heard even if it was just for 10 seconds."
Though Brooks may have been UPI's first business editor, she doesn't see herself as being anything else other than a dedicated worker that was able to share the love for her work with like-minded people. She remembers staying at work overnight when things "just weren't going right." UPI was the first to computerize stock operations and editorial news, and Brooks would stay late at work to get acquainted with the new technology.
"I worked my tail off! I just liked it! As I look back on my life, it's the people that I remember and the things that I made possible in strange ways," Brooks said. "I had a way of doing certain things. I like what I did…I liked the people, particularly. Watching [staff] commit, watching them grow and even watching them leave and go onto bigger and better things."
One person in particular caught her eye.
"One of the departments were broken up, and they decided that Roz would be moved," said Brooks. "She was not about to stand for that and said that she would show them. So they placed her in the financial department in theory hoping that she would hate it and quit. Well, she turned out to be the best we've ever had!"
Roz Liston, who succeeded Brooks as the UPI business editor, appreciated the support.
"She very much was an advocate for me," said Liston. "For the first women breaking the barriers in the industry, for her to be as much as an advocate as she was for me and several of the other women I think that is extremely important and one of her best contributions along with her many great ideas. She had very good ground work for me!"
Brooks' had many innovative ideas such as feature packages also known as personal business news. This was a way of getting reporters interested in stories.
Throughout her years as a journalist, Brooks inspired individuals as a financial business journalist.
"Dorothy was the first woman SABEW member to be considered an equal to her male counterparts," said Liston. "Her presence in newsrooms as UPI's business editor put the male field of business editors on notice that times were beginning to change. As a young business reporter who came onto the scene in 1972, her stature was inspiring to me. When I became business editor in 1987, it was comforting to have a female colleague."
Brooks was recognized as one of the Business News Luminaries of the Century in 2000 and was an honoree for the Matrix Awards Hall of Fame in 1986.
Brooks stopped working for UPI at the age of 64 when the company was suffering instability with a continual change in ownership. She wanted to keep working so she finally accepted her offer at PR Newswire until she retired.