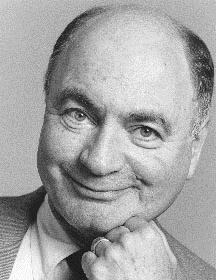 By Jim Grant
"Up and Down Wall Street," the column that Alan Abelson wrote almost until the time of his death on May 9, at the age of 87, debuted on page 22 of the issue of Barron's dated Jan. 31, 1966. Not right away did the alumnus of the University of Iowa Writers' Workshop and the New York Journal-American find his voice. For the first vintage Abelsonisms, the readers of Barron's had to wait not quite three months. But then the journalistic orchid opened. Thus, for instance, on March 14, "Investors could do worse than develop a fetish for footnotes." And a few paragraphs lower: "There's something about the climate in Canada that every now and then turns penny stocks into dollar ones overnight – and vice versa."
Abelson served his apprenticeship at the Journal-American under a hard-bitten financial editor named Leslie Gould. To hear Abelson tell it, Gould was a cross between Damon Runyan and Jack Palance. Barron's was a newspaper only because it was (and still is) printed on newsprint, but Abelson tried to instill and maintain a proper cynical old-time newspapering spirit in our non-too-"Front Page" newsroom at 22 Cortlandt St. in lower Manhattan.
The truth is that it wasn't a newsroom at all, but an ordinary grim, gray, sheet-metal-themed office in which we might have been selling reinsurance rather than producing a "National Business and Financial Weekly," as Barron's formally called itself. Bob Bleiberg, the editor of Barron's, had worked for a few months at the old Journal of Commerce, but he didn't fancy himself a newspaper guy at all. He was an editor and a writer of editorials, and he sometimes said he wished he'd become a judge.
The two of them, Bleiberg and Abelson, were matched and mismatched. Abelson was short and bald, Bleiberg tall and bald. Abelson was, or seemed to be, a Democrat. Bleiberg was a libertarian. Abelson was a cynic. Bleiberg a believer.
On beer and Abelson felt it, while Bleiberg could sit upright at his desk, admittedly slightly red in the face, after drinking a half-dozen martinis at lunch. He scorned the "three-martini lunch," a phrase that good-government boosters bandied to deplore the inequity of federal income tax deductions. Might as well eat a sandwich at the desk, Bleiberg growled.
Both Abelson and Bleiberg could swear, though Bleiberg was the more practiced, having served in the U.S. Army infantry in the Philippines and Okinawa. Once the Dow Jones hierarchy had provoked him to fury by refusing to furnish the office with something like a box of typewriter ribbons. "Goddamn penny-wise, pound-foolish bastards," the editor raged at nobody in particular. "Tell them to get us the things we need."
Barron's was a writer's paper, and everyone wrote. Abelson's assistant, Shirley Lazo, wrote "Speaking of Dividends" (and still does). Abelson edited copy – he was the managing editor – and wrote "Up and Down Wall Street," besides. For a time in either the late 1970s or early 1980s, he did a regular spot on morning television, after which followed a full day at the office. You would see him late Thursday huddled in his office with his research assistants, Frank Campanella or Steve Anreder, working on the next column. Then came the Friday deadline, and you would see him typing away until 6 p.m. or 7 p.m. He wrote about 12 double-spaced pages a week, and he seemed to treat every column as if it were the most important one of his career.
Around Christmastime, Bleiberg would give himself the week off by stringing together excerpts from his favorite editorials of the year and publishing them under the headline, "Out with the hold, we point with pride to some timely insights" of 19 whatever it was. Not Abelson, who would be sitting in his office working up new material, right up till deadline. And if he wasn't satisfied with what he wrote, he would push the deadline.
Abelson, loving newspapers and the craft of newspapering as he did, was a great admirer of Red Smith, as so many of us were. Smith wrote sports columns for the old New York Herald Tribune and then the New York Times, and he died, still writing, in 1982 at the age of 76. If Abelson had come to realize that he had out-legged his hero by a full 11 years, and uncounted thousands of words, it would have tickled him.
Grant is the editor and founder of Grant's Interest Rate Observer and a former Barron's staff writer. The following is reprinted from the May 17, 2013, edition of Grant's by permission.