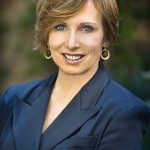 By Susan Lisovicz
Susan Lisovicz is a returning Reynolds Center visiting business journalism professor at the Walter Cronkite School for Journalism and Mass Communication at Arizona State University. She covered many of the major business stories of the last two decades as an on-air correspondent for CNN and CNBC, from the dot-com boom to 9/11 to the housing bubble and the worst economic crisis since the Great Depression. She contributes to the Huffington Post and is a former president of the New York Financial Writers' Association.
It was less than an hour before the stock market was set to open on Sept. 11, 2001. The farthest thought from then-CNBC anchor Ron Insana's mind was that his life would soon be in danger.
"Being caught in the cloud, a half block from the falling towers was, at once, both a terrifying and oddly compelling moment. In personal terms, I thought I would not survive the experience, for some period of time when I was hiding in a parked car amid the debris," said Insana. "In professional terms, I knew I was involved in covering the largest story of my life. It required… a certain detachment and restraint, even as the world, as we then knew it, had just changed so dramatically."
I was struggling for that restraint when the New York Stock Exchange reopened the following week. Outside, it was a war zone. Inside, there was a determination to show the world it was business as usual. Stocks collapsed into free fall, but traders erupted into thunderous applause. First responders had entered the room.
The resilience of America in those dark days as illustrated on live TV through the resumption of a simple but powerful ritual: the opening bell.
Business news defined the major story of that day and the tumultuous decade to follow. The housing bubble — and bust — and the worst recession since the Great Depression all unfolded in breathless detail on the small screen.
By now most of us know: ignore business news at your peril. "It's about the global economy, the financial health and welfare of the nation and its citizens," said Insana. "We don't just vote with our pocketbooks, we live through them so… (it) has a profound impact on very important aspects of everyone's life."
Yes, business news has substance. But it's also got colorful characters. And boy oh boy, does it have drama — it's made for TV. For those of us lucky enough to have front row seats to Wall Street's own reality show, there are amazing stories.
About villains: "I remember running out of the federal courthouse after Ivan Boesky's (insider trading) plea," said Allan Chernoff, senior vice president at Fleishman-Hillard and a former correspondent at CNN and CNBC. "We got the money shot of a lifetime directly in front of Boesky as he attempted to make his way to a waiting vehicle. That was a great rush."
And moguls: "I did one of the first TV interviews with Bill Gates in 1989, when he was a curious, bespectacled billionaire that few people outside the tech world had heard of," recalls Maricopa County Communications Director and former CNBC correspondent Jerry Cobb.
And crisis: "During the savings and loan trauma, whenever I did a stand-up in front of a bank I'd have to talk quickly and leave with the crew right away because crowds would quickly form — straining to hear if the institution was about to go belly up," says Andrew Leckey, president of the Donald W. Reynolds National Center for Business Journalism and a former anchor with CNBC.
And to think that TV business programming had once been of interest only to businessmen of a certain age and income. In the pre-cable TV days, business news was confined to broadcasting's backwaters. Or as CNN's founding financial editor Myron Kandel calls it: "The wasteland — because it wasn't being covered. Each of the three networks had a financial correspondent who was lucky to get on the air once or twice a week."
Unless you went to PBS. Louis Rukeyser pioneered TV business news programming in 1970. "Wall $treet Week" was described as a Mister Rukeyser's Neighborhood for grownups. He memorably consoled viewers after the '87 crash saying, "It's just your money. It's not your life. The figures on a broker's report mean little compared to that. The people who loved you a week ago still love you today."
But even Rukeyser had precious little time to counsel viewers: his show only aired once a week.
CNN, launched seven years earlier, had no such barriers. The '87 crash was the story when business news came of age. "We covered it around the clock. When Wall Street closed and Asia opened, we covered it," says Kandel. "Then Europe opened. We covered it. It was the first business news story to be covered around the clock."
Live coverage called for a change in the look of financial programming. In came the now ubiquitous stock ticker, but the industry look was still quite primitive.
Here's Chernoff's recollection of financial segments from KWHY-TV in Los Angeles: "The station had scoreboards behind the anchors showing stock indices and prices. When prices would change, the numbers flipping on the scoreboard made it sound as if producers were popping popcorn in the background."
Eventually financial news borrowed a page from ESPN's Sports Center. "The launch of 'Squawk Box' on CNBC was the ultimate expression of the desire to have a pre-game show that led to half-time reports, final-hour coverage and post-game analysis," says Insana. "It made the news more accessible and entertaining—and busy."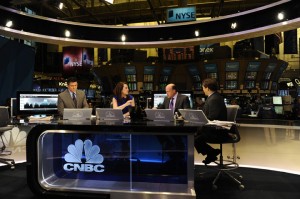 Statistics were suddenly sexy. The Dow, NASDAQ, S&P 500 levels, bond yields, soybean futures, crude prices and treasury yields in primary colors all squeezed in above, below and on the side of the ever-shrinking space allocated to the TV anchor.
October 1987's Black Monday, with its 22.5 percent plunge in the Dow Industrial Average, was followed by the beginning – some would say the continuation — of the great bull market. This coincided with the Internet revolution, global trade agreements and more Americans taking control of their own retirement through 401(k) investments. All reasons to tune in.
"People were excited to learn about their new investment accounts… and where the money was headed," said Leckey. "Everyone from brokers to seniors to immigrants who wanted to connect with the American way."
The growing audience attracted new competitors: Bloomberg, FNN (later gobbled up by CNBC), the now defunct CNNfn and Fox Business Network. It also created the sudden need for TV business correspondents.
Before my entrée into the world of finance, I was a general news reporter at CNN. Many, like myself, learned virtually everything on the job and from devouring The Wall Street Journal.
Cobb was a comparative lit major when he joined FNN. "I could quote Proust and deconstruct post-modernist semiotic texts but had virtually no inkling of what made the markets move or the economy tick," he said. But he embraced it fully. "I began to understand that every story is a business story in disguise, that money and economics drive virtually everything that gets reported in the daily news flow."
Fox Business Network correspondent Lauren Simonetti just wanted a foot in the door when she took a production job at CNN. "Frustrated, inexperienced and clueless, I accepted a (low-paying) job at a mega news organization in New York City, and at the time, I tried to ignore the fact that it was in financial news," said Simonetti. She had a similar epiphany.
It seemed everyone was taking notice. CNBC, which was then housed in a nondescript office building in Fort Lee, NJ, started getting requests for segments from 30 Rock — NBC's glamorous headquarters across the George Washington Bridge. And corporate America wanted in, too.
Major companies started calling the newsroom, offering their CEOs as guests. "Trading floors in New York started installing live cameras to make it easier to get their industry analysts on our programs," Cobb remembers. "Brokerages and money managers started buying commercial time in bulk and suddenly, the whole world seemed interested in following the market and economic news."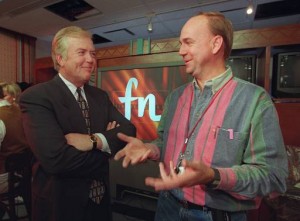 CNN also bulked up on business news shows. It started with "Moneyline," but it didn't end there. "The big interest grew in the stock market until at one point business news accounted for 25 percent of total CNN programming," said Kandel.
All that new programming brought increasing criticism, including glorification of the so-called rock star CEO and cheerleading stocks that were bound to fall. But the "greed is good" message that some accused the financial news outlets of touting was also met with no shortage of critical reporting. SABEW's The Business Journalist covered the rise of business news on television in its October/November 1998 issue.
Many warned for years that skyrocketing dot.com and housing prices were unsustainable. And we doubled down on coverage of Tyco's infamous $6,000 shower curtain, Martha Stewart's transformation from domestic goddess to convicted felon and the biggest Ponzi schemer of all time, Bernie Madoff.
Kandel is blunt about coverage ahead of the systemic failures that brought about the worst economic crisis since the Great Depression. "The entire financial press missed the boat that brought the international economy to the brink of disaster," he said.
"The entire financial press missed the boat that brought the international economy to the brink of disaster," – Myron Kandel
Meanwhile, audience numbers overall were also in decline. This is how it works in financial programming: viewers just aren't as eager to tune in when all they hear is that their investments are going down.
And this all coincided with another big event: the emergence of social media. CNN correspondent Poppy Harlow was hired specifically as an online reporter for CNNMoney.com in 2008. Many of the stories she reported were web videos that would never be seen in their entirety on TV.
"We sat down for interviews with leaders in the banking industry like Alan Schwartz of Bear Stearns, John Mack, CEO of Morgan Stanley and Hank Greenberg, former CEO of AIG," said Harlow. CNN only ran sound bites. "On television you often don't have the air time to run a full, 30-minute interview, but we were able to do that on CNNMoney.com, which made our content unique," she said.
The bar has been set higher for the new crop of TV business journalists. They're expected to know more and they're expected to do more. Actually, let's just call them multimedia journalists.
"Sharing our work through Twitter, Facebook, Instagram and YouTube is extremely important. I am always thinking about the best way to engage viewers so that they will also want to share our work with their friends and family," said Harlow.
And mobile devices are emerging as a preferred way to share information. "Subscription services may come with mobility," says Insana. "There are opportunities for more specialization, but more risks that come from fragmenting and commoditizing the information that was long considered premium content on TV."
That's a big business story. Watch it on a small screen – perhaps a really, really small screen — near you.