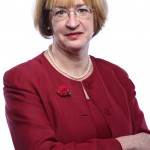 By Becky Bisbee
Becky Bisbee joined SABEW in 1993 while business editor at The Modesto Bee. She was first elected to the board in 2000 and served for 10 years. She also served on the executive committee and edited The Business Journalist from 2003-09. She currently is business editor at The Seattle Times.
One wrote a book about the legendary businessman Wayne Huizenga.
Another took up the personal finance column started by legendary writer Sylvia Porter.
Another started as a summer intern and became the first woman to run the business department of a major metropolitan newspaper.
What they have in common with seven other SABEW members is they rose through the ranks to lead the organization. Ten women have served as SABEW president during its 50-year history, promoting excellence in a profession traditionally dominated by men.
Margaret Daly was the first in 1980 when the roster shows only 20 women among the 156 members.
"Let's face it," recalled Daly, who was then half of the money management writing team at Better Homes and Garden magazine.  She became president "because I was a woman. Things were a little loosey, goosey in those years."
Daly remembers she was one of two women members when she joined, recruited by Myron Kandel, a founding member of CNN.  SABEW never prohibited women although a similar group, the New York Financial Writers' Association, barred women from joining for 37 years until 1975. (Its first women president, Margaret A. Klein of Reuters, took office in 1977.)
Kandel said the timing makes sense. "The first 20 years, there weren't that many women in the top jobs," he said. "And those who achieved acclaim hid behind initials, such as S.F. Porter and J.B. Quinn.
"Women were not given the respect and esteem that they deserved," Kandel said. "That was a barrier they had to overcome."
And, eventually they did with the Civil Rights Act of 1964 on their side and as part of a cultural movement captured by Betty Friedan in her book "The Feminine Mystique," published in 1963.
Daly joined Better Homes and Garden in 1961, two years out of Vassar.  "I joked that the man who hired me, George Bush — not THE George Bush — was looking for a $150 a week girl for $71.50."
The magazine was branching out beyond photo-driven features. Bush dictated his personal finance column to Daly, who knew shorthand. When Bush retired, she took over.
"It was perfect for me," says Daly. "I consider myself more lucky to have worked at the magazine than a trail blazer."
Women making their mark
Writing about pocketbook issues was an early entre for women breaking into journalism but not the only one.
Carol Loomis parlayed an editing job for an internal magazine at Maytag into a career at Fortune magazine that lasted more than 50 years.  It took her eight years to move from a researcher in 1954 into a full-fledged writer in 1962. Loomis broke the Henry Luce mold at the Time media empire where "men wrote, women did other jobs," she recalled in a 2005 column that should be required reading for all journalists.
A self-admitted document junkie, Loomis is well known for writing features eviscerating public companies for accounting shenanigans and other misdeeds. She is credited with coining the term "hedge fund" in 1966.
Other women tackled hard-news stories in the 1950s and '60s as the number of women journalists multiplied like mutual funds in the 1970s. In 1968, women represented 41 percent of college journalism school enrollment.
The New York Times hired Eileen Shanahan away from the Journal of Commerce to cover the national economic policy beat, SEC and major tax legislation in Washington, D.C., in 1961. Shanahan was the first woman to work in a D.C. bureau assigned to cover something other than the First Lady.
Rachel Carson's expose about the dangers of pesticides — "Silent Spring" — initially appeared as a three-part series in the New Yorker magazine in June 1962 and was then published as a book. Carson's work is considered the beginning of environmental reporting.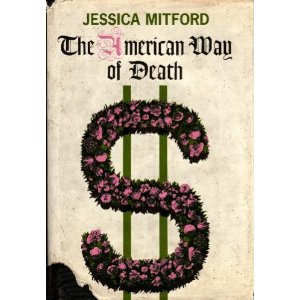 Jessica Mitford revealed the funeral industry's unscrupulous business practices in her book "The American Way of Death" published in 1963.
Cheryl Hall interned at The Dallas Morning News in summer 1972 and returned after graduation from SMU. A decade later she became business editor and the first woman to lead a major metropolitan newspaper business section. In 1987, she became the second woman to lead SABEW.
Jimmy Gentry, who served as part-time executive director from 1985-91, remembered Hall as "a woman with a presence about her that you knew she was a woman of gravitas, although she could be quite funny." Hall worked to create more revenue streams besides dues, protect high ethical standards and to increase awareness of the group, Gentry said.
During her decade-long tenure as business editor, Hall is credited with expanding the staff and the stature of business news. Her leadership within the organization and at the Morning News earned her the organization's highest honor, the Distinguished Achievement Award, in 1996, the first woman to be so honored.
SABEW's second 25 years
In the organization's second 25 years, more women climbed the leadership rungs at their respective media organizations and within the group.
Sandy Duerr recalls women were in the minority but says she always felt welcomed and encouraged at SABEW. Duerr came up through the ranks of Kentucky newspapers, following in the footsteps of Pam Luecke, who invited Duerr to join SABEW in the 1980s. Duerr was business editor of The Louisville Courier-Journal during her presidential term in 1991.
It was a pivotal time for the organization. Duerr created a futures committee to map out five-year goals and another to strengthen the walls between news and advertising content. The board was losing Gentry as executive director and considered whether to keep its headquarters at Missouri.
Los Angeles Times personal finance writer Kathy Kristof attended her first SABEW conference to meet her syndication customers in Seattle in 1994 after succeeding Porter.
"Porter used her initials because she thought no one would take her seriously" unless they thought it was a man giving financial advice, recalls Kristof, who was president in 2003. Kristof says she figured if "you were smart and worked hard, you could be faster than anybody you competed with."
There was no shortage of great stories a decade ago.
Bethany McLean asked "Is Enron overpriced?" in a Fortune magazine cover story in March 2001 that questioned the giant energy company's aggressive use of off-the-books accounting tricks. Enron, one of the country's largest and most admired companies, declared bankruptcy 10 months later.
Loomis had her own get with a Fortune cover story "Why Carly's Big Bet Is Failing," about the Hewlett Packard-Compaq computer deal under CEO Carly Fiorina.  The story was posted online on Jan. 22, 2005; HP's board fired Fiorina on Feb. 8 although at the time it said recent media attention did not play a role in its action.
Gretchen Morgenson of The New York Times won the 2002 Pulitzer Prize for Beat Reporting for her work that exposed the coziness of Wall Street relationships and the dangers of off-balance sheet financing. Dean Starkman, writing for The Nation magazine in 2009, called Morgenson "The most important financial journalist of her generation."
New York Times co-worker Diana Henriques produced brilliant work as well.  Henriques' 2004 series called "Captive Clientele" revealed how insurance companies, investment firms and lenders fleeced thousands of soldiers with the blessing of military leaders. Henriques won several major awards and was a Pulitzer Prize finalist for her two-year project.
Henriques has been a frequent panelist at SABEW conferences during the last decade, sharing her tips on how to organize big projects, how to get reluctant sources to talk and how to sell a story to a book publisher. Henriques turned several of her projects into books, most recently "The Wizard of Lies" in 2011 about Ponzi scheme perpetrator Bernie Madoff.
Kristof says she found some of the best conversations occurred in the hallways during SABEW conventions. "You can be there to help other people and end up helping yourself, learning yourself," she said.
Indirect route
Other women who have made business journalism their profession took more circuitous routes.
Susan Wells says she fell into business journalism while on the metro staff at the Atlanta Journal-Constitution. She got an editing position on the business staff and never looked back. "This old hippy chick found fascinating content [in business]," said Wells. "This was where the power was."
She was promoted to business editor in 1991 and led SABEW in 1998.
"Business journalism was a cool thing to do. The economy was going crazy. Technology was dialing 5-1-1 to get free stock quotes. The Internet was something the military used," she recalled about the early '90s.
Sandy Gonzalez, a SABEW governor from 2000-05, saw business news as a refuge. Gonzalez came up through radio and TV before working at the The Daily News and eventually The New York Post. After working on a year-long child abuse investigation, Gonzalez says, she needed a break. She recalls the Post offered her a two-week vacation.
Having something lengthier in mind, she went to the legendary Gerard Bray at Bloomberg News. "I told him I'd do anything, even business, as long as I could get off the dead baby beat."
Bray sent Gonzalez to London. She stayed for three years before returning to Bloomberg's New York headquarters where she worked until 2008 doing a variety of jobs, including training and TV production.
Gail DeGeorge was drawn to business and economics at an early age and started her career as a business journalist at the Sun Sentinel in 1982. She worked at the Miami Herald before joining BusinessWeek in 1987 and eventually returning to the Sun Sentinel.
She found out about SABEW through Jodi Schneider, a colleague in South Florida at the time and SABEW president in 1995. DeGeorge, who now works for Bloomberg News in the D.C. bureau as one of Schneider's co-workers, found the support and resources offered by SABEW members helped her become a better journalist.
"If you were paying attention at the conferences, you came away with a wealth of story ideas," says DeGeorge, who served as president in 2007.
Her 1996 book on Wayne Huizenga describes how the serial deal maker sold Blockbuster Video to Viacom for $7.6 billion in 1994 and then turned his attention to owning a professional football team.
Fellow South Floridian Lisa Gibbs admired DeGeorge's work at BusinessWeek and thought she could do that. Gibbs has spent most of her 20-year career at Money magazine with a five-year stint running the business department at The Miami Herald.
Women have represented the majority of college journalism students since the late '70s but only in the last decade have they gained sizable numbers among business journalists. Gibbs has witnessed the changing demographics at Money, where women make up most of the writing staff and about half of the editors.
Gibbs, who won a Loeb personal finance award in 2012 as part of a team at Money, said, "Women rule."
The future
Like the '70s cigarette ad campaign aimed at women said, "You've come a long way baby."
Current president Jill Jordan Spitz joined the SABEW board in 2004, the same year she became assistant managing editor at the Arizona Daily Star in Tucson, where she had been serving as business editor since 2000.
Spitz said when she attended journalism school she was advised to get into either business or sports because there was a great need for women. She thinks that is less of an issue now in business journalism.
"As the business editor, I would get a lot of calls from angry readers, because we cut back the stocks or whatever, who would say 'I want to speak to the man who runs this department,'" Spitz said. "But I never felt held back."
Women are playing key roles in the Internet age. Wall Street Journal writer Kara Swisher migrated her BoomTown column onto the website AllThingsD.com, where she is co-executive editor. Swisher also co-hosts the high-profile tech conferences under the same name. She received a Loeb Award for blogging in 2011.
Michelle Leder launched footnoted.org in 2003 to coincide with the publication of her book "Financial Fine Print." Leder found SEC documents interesting early in her career, while writing about a small Florida bank engaged in aggressive accounting. In 2010, Morningstar bought footnoted.org for an undisclosed sum. Leder took control back in September 2012.
Ilyce Glink spent eight years as a personal finance and real estate reporter for WGN-TV in Chicago, and hosted nationally syndicated radio programs.  Now her ThinkGlink.com website serves as a launching pad for her columns, appearances and books.
SABEW sent two women — Gibbs and SABEW Chair Marty Steffens — to the Pacific Rim last year to meet with foreign journalists at two events. Even though many U.S. news organizations have cut back their foreign bureaus, Gibbs says more outlets are covering China and other growing economies.
"The rise of business journalists as foreign correspondents is very interesting," said Gibbs. "Bloomberg and Reuters bureaus are everywhere. Those journalists can shed a light on what is going on and play an important role. There is a demand for honest, solid information."
And, she said, women were well represented at the events.
Related:
Notable Women Business Journalists
Women who Served as SABEW President
Dorothea Brooks 1923-present. United Press International