By Nick Shchetko
The announcement arrived on Sept. 19, 2013, but barely took the tech media industry by surprise. Rumors about a potential breakup of the long-term relationship between The Wall Street Journal's owner, News Corp., and one of the most popular technology blogs, AllThingsD, had surfaced months in advance.
The breakup meant that the whole AllThingsD team, led by tech journalism superstars Walter Mossberg and Kara Swisher, would be leaving the Journal in pursuit of a new venture. The move became the first link in a chain of several important announcements in technology journalism in the past year.
The tech news business has grown in significance over the years, along with the tech industry.
The information technology became so pervasive nowadays that literally no other industry can remain unaffected by the dramatic changes it facilitates. The influence of tech companies is huge, so as their value. The three out of five U.S. largest stocks by market capitalization are technology businesses: Apple, Google and Microsoft. Of these, Apple is the world's most valuable company. With capitalization of roughly $510 billion, it leaves behind energy titans, industry giants and huge banks. The total value of technology stocks, $370 trillion, trumps everyone else but the financial sector. The next closest industry – raw materials – is roughly two times smaller.
In the informational era, it comes as no surprise that the media is at the forefront of both the changes technology brings and the coverage of these changes.
"Every technology company is a media company, and therefore every media company should be invested in or understand technology," said David Cohn, the chief content officer at Circa, a mobile news startup.
During the last couple of years a number of large media companies beefed up their tech coverage by expanding tech beat desks or launching new ventures aimed at this market.
"Tech is part of most things, or will be soon, so journalists need to understand what that means," said Dan Gillmor, a digital media expert.
"I don't think a "tech reporter" is necessary for all niches. However, all journalists should have some training in learning how to use new tools," said Gillmor, who teaches Digital Media Literacy and Entrepreneurial Journalism at the Arizona State University.
While literally every media outlet reports on the technological matters these days, there is a several dozen of English-language publications, primarily U.S.-based, that set the tone.
A large publication can barely remain relevant to its readers without professional journalists who could analyze the newest announcements from technology companies and explain their meaning an importance to wider audiences. That's why tech desks at the New York Times, the Wall Street Journal, Reuters, Bloomberg News and several other large publications are sizable, and their headcounts keep growing.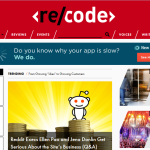 Another group of media tone-setters is composed of a several dozen digitally native tech blogs that cover tech in all of its diversity. This group includes, most notably, TechCrunch, The Verge, Engadget, Ars Technica, CNET, Re/code (formerly AllThingsD), GigaOM and other similar outlets.
Finally, the picture of the general tech media landscape wouldn't be complete without a vast number of personal blogs and relatively small shops that often focus on specific technology facets, such as search engines, digital security or company-specific news. These organizations or individuals often provide in-depth analysis and put news in the context of their field of interest.
This media landscape has been like that for about a decade, but recent trends in journalism have also affected tech media and introduced changes. The rise of the social media, most notably Twitter, transformed prominent journalists into media outlets of their own. "Writers with large followings are less tied to where they work at as a result. There's more mobility," said Gabe Rivera, founder of TechMeme, the site that aggregates the most important tech news from all across the web.
The big upheaval
In the beginning of 2014, several massive tech journalism projects started, and most of them revolved around journalist superstars.
Walt Mossberg, his business partner Kara Swisher and AllThingsD staff parted ways with the Journal to introduce Re/Code, a new tech news venture, launched in partnership with NBC. The Journal relaunched its own tech desk under WSJD brand and went on a hiring spree to expand its tech coverage. The latest talent acquisition Christopher Mims, a Quartz tech editor, will become the personal technology columnist to succeed Farhad Manjoo, who recently left the Journal for the New York Times.
The Times lost its tech talent, too. David Pogue, its personal technology columnist, joined Yahoo to start Yahoo Tech, heavily consumer-focused tech news site.
New media organizations that do not necessarily focus on tech, pay significant attention to the beat from day one. Vox.com, a new project of the renowned Washington Post's journalist Ezra Klein, runs several high-caliber tech-related stories a day, tailored, however, not to industry professionals, but to the general public.
So does such variety mean the high – and growing – demand, or it just further fragments the market that may well be already overly saturated?
With regard to saturation, a media critic and New York University professor Jay Rosen said that one can "never sure of that" and suggests that maybe "the site we really want hasn't been born yet."
Gillmor points to the high "noise level" in tech journalism nowadays. "There's been a surplus of tech journalism for some time, if what we mean by tech journalism is shallow reporting of small announcements and mini "scoops" about things that only a few people care about," he said.
On the bright side, "we're seeing deeper reporting than before, too, with some terrific journalism going on at Yahoo Tech, Re/Code and others," Gillmor said.
The natural selection will eventually put the things in perspective. Tech media, often a preferred read of younger and more affluent audiences, enjoy close attention from advertisers.
"Are there more [tech] sites than the advertising market can support in the long run? Maybe, but if so we'll find out soon enough when some disappear," said Gillmor.
Paywall, or not to paywall
Advertising is not the only way of funding journalism these days. Jessica Lessin left the Wall Street Journal in the Summer of 2013 to found her own tech publication, The Information. The subscription-supported publication at $399 a year is more expensive than the Journal ($348). Lessin thinks that the price tag is justified: "We know the audience we want to go after – they're professionals inside and outside of tech, an audience that pays for information that's going to make them smarter and give them an edge and to be ahead of the curve," she said in an interview.
"We know the audience we want to go after — they're professionals inside and outside of tech, an audience that pays for information that's going to make them smarter and give them an edge and to be ahead of the curve."
It is "very much serving the business and industry, they're like trying to be the Wall Street Journal … for the people in the know, the business leaders of the tech industry," said Cohn.
"It is not there for consumers," he added.
The question about the sustainability of the hard paywall strategy in the long run still lingers. But most of tech blogs and tech-specific publications remain free of charge for their readers. But publications may compile specific market research and analysis reports, based on carefully gathered and curated data that no one else provides, and charge a lot for the access to it. Business Insider's BI Intelligence arm or Gigaom Research would be great examples of the approach.
And then there are conferences, of course
In the recent years, numerous tech websites went offline by hosting conferences that bring together thought leaders and executives from the tech industry. Tangible and intangible gains from these events turned out to be so significant that the large tech sites put a lot of time and effort into organizing and promoting these events. TechCrunch Disrupt, Wired Business Conference, Gigaom Structure, WSJDLive, Engadget Expand, Re/code's Code Conference… – and that's not nearly a full list.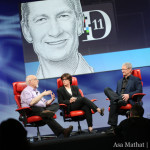 The trend was set by Mossberg and Swisher, though it probably was an exception that proved the rule. The wildly popular tech conference they started doing for the Wall Street Journal in 2003, D: All Things Digital Conference in 2003, eventually gave birth to AllThingsD project in 2007. Nowadays it generally goes in the opposite direction: big tech sites are giving birth to massive conferences.
"The economics of live are better than the economics of ads, so I would expect the conferences to continue," said Rosen. "Now we have to make them good. First step: if you're a sponsor, doesn't mean you get to talk," he said.
Cohn agrees that the tech media-run conferences are financially justified. He is also not opposed to the idea, but highlights that this business may raise some eyebrows: "conferences are for, usually, the tech industry itself. So they [tech sites] sort of hosting a tech industry conference and charging and making money and sort of doing the thing, and then the next day they turn around and cover the tech industry."
"It'd be as if, you know, the politics editors at the New York Times or at Washington Post had a conference for politicians … it's very different," he said. "For some reason we accept that for technology journalism organizations, tech sites to organize tech conferences for the tech industry," said Cohn.
"I'm not trying to imply that it's not justified or that anything bad is necessarily happening as a result of it, but I do think it's kind of interesting nuanced relationship," Cohn said. He noted that even much small media-backed pitching conferences that bring together venture capitalists and startup founders "are great for that [startups getting their opportunity to pitch], so it's good for them, and again, it's good for the site that organizes those."
Major conferences charge hefty fees for access. Mossberg and Swisher's new conference, The Code Conference, that starts in late May, is now sold out (registration fee – $6,500). There are still some spots for the WSJDLive conference in late October, at $5,000. Both events feature panels and speeches from the top tech companies' executives, such as Google, Alibaba, Twitter, Apple and more.
But will these revenue sources remain sustainable in the long run for the new outlets? May well be, at least for some of them.
"I do believe Re/Code will do just fine financially, because its revenues are based largely on conferences that made AllThingsD profitable in the past," said Rivera.
The new tech ventures with huge organizations behind their backs, such as the Wall Street Journal and Yahoo, would definitely do fine, but for smaller independent media it may not be necessarily the case. In the long run, the ones that provide readers with what they want would win.
It's hard to estimate audience size and financial situation of the most tech media outlets, but thanks to TechMeme's Leaderboard it's possible to roughly evaluate how many scoops they deliver. It certainly has its limitations, but that's the best tool publicly available. If we look at the data from the last 7 years, the ranking of tech news sources by their "Techmeme presence" will look like this:
TechCrunch – 139.49%[i]
Re/Code (formerly AllThingsD) – 56.44%
Engadget – 44.85%
The Next Web – 39.90%
The Verge – 39.22%
CNET – 38.42%
The New York Times – 37.62%
The Wall Street Journal – 35,91%
Reuters – 33,82%
GigaOM – 31,92%
It is interesting that TechCrunch has been the clear leader since the very inception of the leaderboard in October 2007. AllThingsD started to gain momentum in late 2010; so has the Wall Street Journal. CNET's performance, however, slightly degraded over the years.
The Verge, arrived in 2011, became an instant hit – it ranked high overall even though it was not in the game for as long as most of the other outlets on the Top-10. The same is true for The Next Web – the project materialized in 2009.
This year, the most prominent players were TechCrunch (the clear number one), Re/code, The Journal and The Verge – these resources dominated top positions of the leaderboard.
Among the fresh cohort of tech sites, the "old-new" Re/code is definitely going strong. "I think they're doing fantastic," Cohn said. "They've proven themselves obviously with AllThingsD, and they're doing it again with Re/Code … I think they're doing a great job."
Setting new media outlets aside, what's next for the tech journalism? The audiences' interest in technology matters will likely continue to grow, fueling the demand for better and more diverse tech reporting. But in many ways the coverage is probably going to be more focused and less broad, unless we're talking about bigger media outlets catering to general audiences.
"General tech coverage, or broad tech coverage, at a certain point has diminishing returns," said Cohn. "I do think that the most successful tech sites are not gonna be generalists, there's only so many general tech sites that you really have or need or can win, right, I do think there gonna be more specialists."
On the other hand, as the technology continues to reach out into multiple industries, the whole meaning of "technology" would broaden, and mainstream media has to react.
"So should every media outlet have a tech reporter? To some degree, yes. Even if you're the Chronicle of Higher Education, technology is impacting education, right?" said Cohn.
Rivera also notes that "more mainstream/established publications are hiring tech writers." His company's example perfectly illustrates the "evolution" of tech industry.
TechMeme started as a company focused on the issues mostly tech bloggers were concerned with, but the convergence eventually exposed it to larger audiences and broader coverage. "Lines were too blurry for us to address an area any narrower than what we cover now: both hardware and software, both web and native applications, both enterprise and consumer, both people and products, and both commercial aspects and core technologies", said Rivera in an interview to Business Insider.
Still, it'll be a challenge for tech media outlets to serve both the industry and the general audience. "That which serves the industry and that which serves the public are, I think, heading for a split. That is what I would watch for in tech journalism," said Rosen.
Shchetko is a master's student at the UNC-Chapel Hill School of Journalism and Mass Communication who will intern with the technology news desk of The Wall Street Journal in San Francisco this summer.