By Shelley Watkins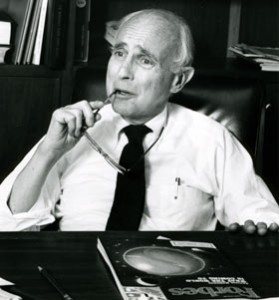 James (Jim) Michaels' contributions to journalism have been largely forgotten by today's writers, but to his contemporaries and those at Forbes who worked with him, Michaels was a legend who transformed the world of business journalism.
Michaels was known for trying to make a "business critic" out of journalists. He felt that an article should be told like a story, one that captivates and keeps the readers' attention. He capitalized on the idea that journalism was like show business. He believed this to be done by creating a unified piece.
Michaels expected his writers to start with an anecdote and end with that same anecdotal reference. If the story was written correctly there could be a reference dropped perfectly in the middle.
Michaels was born in Buffalo, N.Y., on June 17, 1921. During his twenties, Michaels attended Culver Military Academy in Indiana and later graduated from Harvard University with a bachelor's degree in economics. At the outbreak of World War II, Michaels joined the military.
By 1943 a young Michaels was accepted into the American Field Service and sent to Bombay, India. Upon being relieved from his war duties, Michaels stayed in India and refined his writing skills while working for the United Press wire service.
Michaels' distinctive writing career truly began in the 1940s with his time in India. At that time, Michaels was working in India as a political journalist and began to write some of the biggest stories of his life. In 1948, Michaels broke the story of the assassination of Mahatma Gandhi, setting his place as a forerunner in the changes that were to come in journalism.
Constantly in the center of India's political turmoil, Michaels became known for his investigative stories, which would later be a driving force in transforming the identity of Forbes magazine.
Michaels was editor at Forbes from 1961 to 1999. In 1954, when Forbes hired Michaels, business journalism was said to be "a place where publications dumped their drunks and burned-out sportswriters."
Michaels' unique approach to editing and column writing changed the image of business journalism from one that was boring, dull, and unreadable to one that told who was doing well, who wasn't, and why. Michaels transformed business journalism into a fascinating stage of drama, triumphs, and tragedies.
Former senior editor Dick Stern remembers Michaels. "He was by far the brightest editor, had tremendous historical understanding of the markets, and was an absolutely brilliant wordsmith," said Stern. "He would make articles pop off the page."
Two of the most remembered concepts that Michaels strived to embed in his writers were the ideas of being original and of being concise. Michaels' main concern was the reader. He did not want to bore his readers with useless information. He wanted to give his readers exciting stories that were straightforward and focused on the relevant points.
Michaels expected great work from his employees. Former Forbes writer Gretchen Morgensen described Michaels as being demanding in what he expected from his articles. "Either you had to be first or you had to be completely different from other reporters," she said. "And God help you if you weren't coming up with what he wanted."
Around the Forbes office, Michaels' harsh personality struck fear in most people's hearts.
"Many people were afraid of him, but there was a cadre of people who were willing to go in and fight with him," remembered Stern.
Though Michaels was a tough critique, the people who worked for him learned effective ways of writing.
Stern described his time with Michaels when he explained, "Thirteen years at Forbes working with Michaels was like a master's or doctoral course in how to understand business and do business journalism."
Fortune senior editor at large Allan Sloan felt that Michaels was a reason for why he is a successful writer today. "Forbes was a great place to work for someone who was a self-starter," said Sloan.
Michaels would drive his writers to seek out original, inventive stories that had yet to be covered by other publications.
"He didn't teach; he led," remarked Sloan.
Michaels took business journalism out of the shadows and transformed it into one of the leading topics of today's society. Though the general population may not revere him, his legacies will remain vital in how business journalism continues to grow and flourish throughout the world.
"Forbes in the heyday was known for celebrating business," said Stern. "It wasn't just a cheerleader, it was accountable journalism."
Shelley Watkins is a senior public relations major at the University of North Carolina at Chapel Hill. Born and raised in Atlanta, Ga., she hopes to someday return to the Peach state to work for a PR firm.