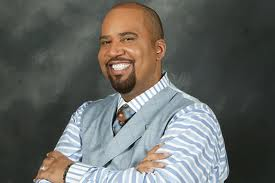 By Tammy Joyner
Angelo Henderson never met a stranger.
Who else could have skillfully juxtaposed a journalism career writing about the heads of Fortune 500 companies as well as America's common man and the forgotten underclass?
His Rolodex and his street cred were the envy of many journalists. So was his writing style.
The veteran print and broadcast journalist died Feb. 15, 2014 at his home in Pontiac, Mich. He was 51.
When his name is included in the annals of American journalism – and it will be – there'll be mention of his Pulitizer Prize, his vaulted and rarified seat at that exclusive table reserved for journalism giants. His raw,unvarnished account of a pharmacist's self-defense shooting of a would-be robber masterfully told the story of both men's lives. It clinched the 1999 Pulitzer Prize for Feature Writing while he worked at The Wall Street Journal.
But those who got the chance to work with Henderson, to hang out with him, to just be around him say he'll be remembered most as the people's journalist. (His gift for being able to make an intimate connection with people would later served him well as a radio show host and minister.)
"The minute Angelo hit the newsroom, you would have thought readers knew when exactly he came into the newsroom. They would start calling. The phone would be ringing off the hook," recalled Oralandar Brand-Williams, courts reporter for The Detroit News who had known Henderson for 25 years. They worked together as reporters at The News and in the Detroit Chapter of the National Association of Black Journalists.
During his days as a reporter, he was not only welcomed into the inner-sanctum of corporate America (he covered Chrysler for The Wall Street Journal among other high-profile beats) but he was given unfettered access to the very pulse of Detroit itself: its people and their thoughts.
"You can't fake liking people," said Kim Trent, a communications consultant in Detroit who worked with Angelo during his 30-year career and was a longtime friend. "When you really love people, it shines through. The reason he had this Rolodex everybody envied is because people really liked him and he really liked people. People trusted him. He had incredible integrity about how he approached a story."
Part of it was his unique way of making people feel that – for the time he was with you, you were the only one who mattered. Nowhere was that more evident than on social media, where many people went to mourn as news of his death spread.
His "Friends of Angelo B. Henderson" Facebook page boasts more than 2,200 followers or, as Henderson called them, "FB cuzins." Everyone was family The page is a place for people to share what's on their mind. As was his three-times-a-week radio show.
"He just had a way about him that will never be seen again,' one follower Stacey M. Skipp posted three days after his death. "His love for his fellow man was always at the forefront. Heaven has indeed gained a precious jewel."
"He had the human touch," Brand-Williams said. "He could talk to anybody on any level, people from diverse backgrounds. For people who aren't perhaps used to dealing with reporters or the media, he put them at ease. He was a very, very smart hard-nosed reporter who knew how to spot a good story."
And good socioeconomic trends – often in places no one else would think to look.
He wrote a Page One story for The Wall Street Journal about the hip, high-tech and haute couture nature wheelchairs were adapting after noticing a lot of young black men in the mall riding in souped-up wheelchairs. It was that street-level, beyond-the-Rolodex eye for reporting that set him a part from the rest of the industry which tends to run with the herd.
Among his peers and in the industry, he was the go-to guy.
Not long after winning his Pulitzer, he was asked to speak at The Atlanta Journal-Constitution, for instance. He booked his calendar and made the trip. In addition to professional groups, he spoke to church groups and schools. He rarely said no.
When the Detroit NABJ, hoping to raise money for its scholarship fund, asked if he'd be willing to be "roasted" – ribbed and teased – he good-naturedly obliged.
"Even after all the accolades he attained – the highest and most prestigious prize in print journalism which was the Pulitzer Prize, he was still down-to-earth, community-minded and willing to help people," Brand-Williams said. "He was very gregarious, kind and upliftng and a fun person to be around."
Now one of Detroit's most vibrant voices is silent.
Henderson is survived by his wife, Felecia Dixon Henderson, an assistant managing editor at The Detroit News and his 20-year-old son, Grant, a student at The University of Michigan-Dearborn.
Tammy Joyner is a reporter with The Atlanta Journal-Constitution newspaper in Atlanta, Ga. She worked with Henderson at The Detroit News where they were business reporters and wrote a column together called "Equal Access."