By Kelci Hight
In the last three years, since Elisabeth DeMarse was appointed as the new CEO of TheStreet, the company has undergone a drastic redesign.
Under her direction, the financial news website has overhauled its editorial staff and changed its business staff. The result has been an improved financial performance and a larger presence in financial media.
The company's portfolio of business and personal finance brands includes TheStreet, RealMoney, RealMoney Pro, Stockpickr, Action Alerts PLUS, Options Profits, MainStreet and RateWatch. Martin Perez and CNBC's Jim Cramer originally founded it in 1996. Despite the initial buzz, the site wasn't able to meet expectations.
Then came DeMarse.

DeMarse earned a reputation as a cutthroat turnaround specialist after rescuing Bankrate, a personal finance website, from bankruptcy in 2000.
When she left Bankrate after four and a half years, DeMarse had moved the stock from near extinction to a high of more than $50 a share. Since Bankrate, she launched DemarseCo, where she consolidated Internet properties related to education and credit cards. After that, she was appointed as CEO of CreditCards.com before settling on TheStreet.
DeMarse employs many of the same strategies she used in these past endeavors to encourage success at TheStreet.
Last year, she let go of 100 TheStreet.com employees and according to the New York Observer, "took a blow torch" to the entire ad sales department, bringing in a new team from Forbes.
Video Production
Part of the new team is assignment editor and head of video content, Ruben Ramirez.
"One of Elisabeth's major initiatives when she came to TheStreet was putting resources into building a good video product." Ramirez said. Recently, the company built a new state-of-the art studio that includes live video capabilities.
"When you're in an environment like we're in, where content is ad supported, video is the last place you can get a lot money for ads," Ramirez added. The company makes around $30 to $40 each time a video is viewed.
Currently, he produces about 30 videos a day between TheStreet.com, MainStreet.com and TheDeal.com, but by the end of the year, he hopes to be putting out 60. The videos extend across 13 channels, including Cramer On Demand, and aim to cover compelling financial news, like stock market commentary and interviews with high profile executives. The studio's Wall Street location makes it easy for CEOs to stop by on their way to the New York Stock Exchange.
When asked how he balances the content on each site, Ramirez explained that it was easy because each site had its own personality. TheStreet.com covers market-focused stocks and trends, while Mainstreet.com consists of more personal financial advice, such as strategies for paying student debt or getting a loan for a car. Premium site, TheDeal.com, focuses on institutional mergers and acquisitions, but without the advertisements.
Ramirez is especially excited about the company's increasing attention to the development of mobile and tablet applications. TheStreet understands the importance of media consumption through mobile devices and application development is yet another way for TheStreet to stay ahead of the curve.
"We've taken TheStreet's deep editorial content, videos, data and tools and packaged them into two powerful iPad and iPhone apps," said DeMarse in a statement. "They are the perfect balance of substance and style, setting us apart from other financial news apps. These apps are a terrific leap ahead, and users can expect a regular stream of updates going forward, including new apps for Android and BlackBerry, as well as fully integrated access to our leading paid subscription services, all in one intuitive platform."
She added that apps for Android and Blackberry would be available soon.
Enhancing video and creating mobile applications are just some of DeMarse's many tactics to bring visitors to the flagship site and subsequently entice potential advertisers.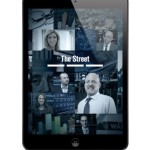 Advertisers are content with paying more in order to reach an audience characteristic of the one TheStreet appeals to. ComScore, an independent Web measurement company, ranked it first among financial media websites for delivering the difficult-to-reach mass affluent demographic. TheStreet readers also ranked first in household income over $100,000 and second in portfolio value of more than $1 million.
TheStreet.com advertisers include WisdomTree, Oppenheimer, TradeStation, Spider, Prudential, Schwab, BlackRock, Emirates, and more.
Ramirez said that his typical viewer has an investment portfolio and money to spend. He called TheStreet.com, "ESPN for financial news junkies." Ramirez is always working to make sure his audience knows the latest stats for financial news, through video when he feels the content lends itself that way.
"Once news is old, it's not valuable," he added.
TheStreet announced in January that it would also be sponsoring the public television series 'Nightly Business Report.' Tyler Mathisen and Susie Gharib produce the CNBC show. Having TheStreet's name on the business television program will further aid DeMarse's efforts to stay ahead and gain attention.
In addition, TheStreet takes advantage of social media engagement on multiple platforms, like Twitter and Facebook.
DeMarse emphasized the new editor in chief, Janet Guyon's, experience in digital journalism.
"The digital journalist of today must be skilled at doing video, social media, and incorporating search engine optimization, as well as developing sources and writing stories. They need to have charisma, as well as content. Janet is a true digital journalist and editor with a strong history in real-time financial markets and business coverage."
Managing talent
Part of the redesign involved putting together a multi-faceted team of contributors.
"Elisabeth's focus was on having a true multimedia newsroom. Everyone has to know how to write, do video and be good at social media," Ramirez said.
In March, the company announced that it would be paying contributors based on page views.
A contributor that receives 20,000 page views for an article in a seven-day period will be paid $20. One that receives 40,000 page views for an article in a seven-day period will be paid $40. And a contributor that writes an article that receives 60,000 page views in a week will be paid $50.
As the page views increase, so does the author's check.
DeMarse wrote, "Our goal is to attract smart, influential writers, analysts and money managers to augment the work of our newsrooms, and who want to be a part of our mission. This is an important initiative personally led by Jim Cramer to attract the best and brightest stock minds to join our publisher platform."
Brad Thomas has been a contributor for TheStreet for nearly three years. He also writes for competitors, Seeking Alpha, Forbes.com, The Motley Fool and The Commercial Observer. He says TheStreet isn't the only site paying him based on page views.
The pay isn't much, he says, "but it's a great way to build a platform." Thomas said his writings on TheStreet.com have helped him gain credibility and promote his newsletter, The Intelligent REIT Investor.
"Most of my subscribers come from articles that I have written," Thomas said.
"I write frequently because it gives me a competitive advantage in research and also because it helps me build credibility. I write about companies with 'wide moat' so I suppose I should also write with a wide moat based strategy."
Some feel that TheStreet keeps too many writers on its payroll, but recruiting contributors is part of DeMarse's goal to deepen coverage of markets and expand breadth of topics.
Subscription services
Along with collecting apt talent, DeMarse has strived to increase the profitable subscription aspect of the site. At the end of the third quarter in 2013, subscription services accounted for $11.4 million, making up 80 percent of TheStreet's total revenue.
Herb Greenberg has been a financial journalist for more than 30 years. He recently left CNBC to rejoin TheStreet after 16 years, thanks to the site's willingness to work with him on a subscription

product. He writes a daily blog for TheStreet's main free website and contributes to Real Money's "Columnist Conversation" column, but his main focus is his position as editor of Herb Greenberg's Reality Check.
Reality Check is a subscription newsletter designed for institutional and sophisticated investors interested in identifying issues that may impact their investment process. Subscribers receive a constant stream of information about businesses and opportunities that have the potential to benefit their investment capital.
When asked how he persuades readers to subscribe, Greenberg said that the process is in transition to TheStreet's "The Deal" organization, which is more institutional in nature.
As Reality Check aligns itself more closely with The Deal, Greenberg says, "Sales will transition from 'free trial' classic retail marketing to an active knock-on-door selling."
The Deal is a media company, which coincidentally, covers the mergers and acquisition market. The acquisition of The Deal in 2012 was one of DeMarse's first actions as CEO and it proved to be a good one. Moving the M&A magazine exclusively online helped to generate interest in the subscription part of the site. In 2011, 8 percent of subscribers were acquired via the free site. By 2013, it grew to 33%.
"While many of our competitors have struggled with the shifting sands of online advertising, we have refined our free site as an acquisition funnel for our subscription newsletters," DeMarse said in a conference call. She noted that TheStreet has a competitive advantage due to dual monetization of the audience visiting the flagship free site.
The type of audience TheStreet attracts is less price-sensitive and more willing to pay for information that provides realistic, actionable advice. According to Greenberg, business journalism's audience is more receptive to paid services than other online media divisions.
"As making money in media is being hashed out, part of the equation is and will be premium-priced products that are not commodity in nature and add a perceived level of value. Business and investment journalism is a natural for premium-priced products," Greenberg said.
TheStreet also acquired DealFlow Media Inc. The financial newsletter and database company includes The DealFlow Report, The Life Settlements Report and the PrivateRaise database.
The integration of The Deal and Dealflow Media has led to a generous rise in revenue for TheStreet's subscription services.
DealFlow founder and former CEO, Steven Dresner, said in a statement, "The combination of our leading small cap finance content with The Deal's M&A reporting is a natural fit. TheStreet has used The Deal's content as a growth platform to help increase revenue from subscription and licensing services."
The future
When DeMarse first stepped in, Cramer warned the new CEO that TheStreet would be "a complete mess," but that only seemed to inspire her and 2013 proved to be a much better year for the company.
In March, the site reported a fourth-quarter profit of nearly $213,000 compared to a loss of $2.2 million in the same quarter of 2012. The number of paid subscriptions was 78,400, an increase of 20.9 percent from the prior year. The company reported revenue of $54.5 million total, a 7.4 percent increase. The net loss for the year was $3.8 million compared to a net loss of $12.7 million the year before.
Hight is a business journalism major at the UNC-Chapel Hill School of Journalism and Mass Communication