By Maddy Will
Sam Walton, who founded the largest company in the history of the world, devotes the very first pages of his autobiography to his distrust of the press.
The relationship between companies and the business journalists who cover them has always been somewhat contentious. Tight-lipped executives deliberate over how much information to disclose to the reporters who are digging to expose any wrongdoings or financial mishaps. When journalists up the ante and decide to write a book about a company, relationships can become even tenser.
Many companies decline to cooperate altogether, forcing journalists to obtain information in other ways. Other companies grant limited access, with a list of stipulations attached. When companies do cooperate, journalists have to balance their input with writing the truth.
"I think that cooperation is a hard thing," said Yukari Iwatani Kane, author of the recent book "Haunted Empire: Apple after Steve Jobs." "A book is really long, you only have so much control, and it's risky for companies. As a writer, it's risky as well — you absolutely want a company's cooperation, if they're going to give it to you, the answer is always yes. But if you end up with the company's line, it's not going to be an interesting book."
"Some of the best journalism has been without the company's cooperation," she said. "As a journalist, that's what everyone aspires to — to tell the truth about something that's not apparent."
Writing an unbiased truth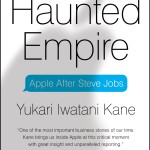 "Haunted Empire," which was published this March, examines Apple post-Steve Jobs and the challenges his successor Tim Cook faces at the company's helm.
"It's a story about what happened to an empire when it loses its emperor," said Kane, who was once an Apple beat reporter for the Wall Street Journal.
Soon after it was published, Cook decried the book as "nonsense," saying, "It fails to capture Apple, Steve, or anyone else in the company."
But Apple refused to cooperate with Kane the entire time she was writing the book — something she said was not much different from when she was a beat reporter at the Journal. When it was time to fact-check, she initially ran two questions by the company to test the waters: what kind of tree is in front of Apple's main building, cherry or apple? And what did Yo-Yo Ma play at Steve Jobs' memorial service?
Apple declined to answer the second question. Officials said they would get back to Kane on the first question, but they never did.
"I figured if they couldn't help me with basic fact-checking, there was no point. They weren't going to help me with deeper fact-checking," she said. "I made the decision to instead run things by my sources, (many of whom) were primary."
Kane said she didn't expect Apple to like the book, but she was surprised when Cook made the public statement criticizing "Haunted Empire," because Apple traditionally doesn't comment on books about the company.
She stands by her book, saying that it's fair, balanced and neutral. She had talked to former and some current Apple employees to get the sense of the company's culture. And after the book was published, Kane said she received email from some "surprising people" who praised the book and its accuracy.
Not having easy access to Apple forced her to be more resourceful in her reporting, and more skeptical of the official company line, she said.
"When you don't get the cooperation, you work that much harder to … get what the truth is. The truth won't be colored by the company's perspective," she said. "When you're talking to a company officially, they do have a vested interest in making themselves look as good as possible. When you don't have that official view with those colored lenses, I think it lets you see things more clearly for what they are."
Before Kane's book was released, Adam Lashinsky wrote "Inside Apple: How America's Most Admired – and Secretive – Company Really Works," a story about the company's strategies, innovation and transition into new leadership post-Jobs.
He did receive help from Apple with fact checking, but he was not granted any interviews with company management.
"Through their lack of cooperation, they ceded total control to me," he said. "I drove the agenda, I chose what I wanted to write about without any influence from them. There's a downside to access — there are pros and cons."
Still, Charles Fishman, author of "The Wal-Mart Effect: How the World's Most Powerful Company Really Works – And How It's Transforming the American Economy," said he trusts that he can avoid being unduly influenced by the company line.
"I will always take cooperation, I will always take access, I don't fear being bought out," he said.
Unintended benefits
Wal-Mart — following in the legacy of Sam Walton, who famously distrusted the press — didn't cooperate with Fishman when he was writing his book in the early 2000s.
"That was in the DNA of Wal-Mart," Fishman said.
Walton believed that talking to the press was a waste of time because when an employee was talking to a reporter, he wasn't doing anything for the business. He also feared that competitors would see what the company had said to reporters, potentially giving away strategies.
Fishman said Wal-Mart now grants more media access than it did when he was writing his book. After his book was published, Wal-Mart officials, pleased with his fairness, reached out to Fishman and invited him to the company headquarters. He wrote follow-up chapters to his book with Wal-Mart's cooperation.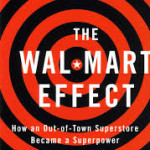 But there were some unintended benefits to the company's initial lack of cooperation, he said.
"The fact that they wouldn't cooperate forced me to be hugely resourceful and energetic in finding people who would talk," he said. "That resistance meant I ended up talking to people who I probably wouldn't have talked to otherwise."
He said it taught him an important lesson as a journalist — you can report anything if you're determined enough. Writing about a person or a company without access to that subject challenges the journalist to find the information and the details elsewhere.
When Amey Stone, executive editor of CBS MoneyWatch, co-wrote "King of Capital: Sandy Weill and the Making of Citigroup"in 2002, she had just 20 minutes with Weill himself.
"We had really written the whole book by the time they gave us access to him," she said. "It was very strategic when it got down to that point."
While hearing directly from Weill enriched the book by peppering it with direct quotes and anecdotes, she said she was prepared to publish the book without his input. In the course of her reporting, she had gone through decades of past interviews with Weill.
"I think the surprising thing is, when you actually do it, you can learn a lot about people without having talked to them," she said. "Some of the most interesting books have been written without (the subject's) cooperation."
Accuracy with no access
A major downside that comes with a lack of cooperation from companies is the fear of getting something wrong.
Fishman sent Wal-Mart 10 pages of fact-checking questions after he was done writing. Some were routine questions, while some were more substantive. Wal-Mart didn't answer any.
Fishman then hired a fact-checker to re-interview people and check every fact.
"If I got something wrong, Wal-Mart would say, 'how right is the rest of the book?'" he said. "I didn't want to give them the chance to pick out three tiny errors … and say the whole book is wrong."
Last fall, Bloomberg Businessweek writer Brad Stone published "The Everything Store: Jeff Bezos and the Age of Amazon." Stone spoke with several Amazon executives, but not Bezos himself.
Bezos' wife, MacKenzie Bezos, gave the book a one-star review on Amazon.com. She opened her review pointing out a small error in the book — Stone got the date wrong of when Bezos read a certain book.
"Everywhere I can fact check from personal knowledge, I find way too many inaccuracies, and unfortunately that casts doubt over every episode in the book," she wrote.
In a piece for Fortune magazine, Lashinsky wrote that MacKenzie Bezos used that one fact error as an opening to criticize the book, when in reality, she didn't like the book because it painted Amazon and Bezos in an uncomfortable light. The company and its founder are portrayed as ruthless and willing to bypass laws to offer customers lower prices.
In an interview, Lashinsky said the situation with MacKenzie Bezos and Stone was unique, but those kinds of tensions between company officials and journalists are not uncommon.
"The press exists to inform and entertain their readers, and of course, to tell the truth," he said. "Companies have only one goal — it's not to tell stories and tell the truth and expose weaknesses, it's to sell products and make money."
Sometimes, companies grant access with the stipulation that they be able to see the book before it's published.
Thomas Lee, who is the author of the upcoming "Rebuilding Empires: How Best Buy and Other Retailers are Transforming and Competing in the Digital Age of Retailing," enjoyed deep access to Best Buy — on the condition that he submit his manuscript to the company before it's published for fact-checking.
"That would never happen, nor should it, in a newspaper world. You don't submit your stories beforehand," he said. "In this case, I had more freedom to work, and it really satisfied them and they gave me tons and tons of access."
Lee, who is still working on the manuscript, said he expects Best Buy to not like some of the content and ask for changes, but he won't guarantee any. He said he expects a lot of negotiation with the company.
"They invested a shitload of time and access with me. It got to be at some point where they were volunteering things to me that I didn't even ask for," he said. "We'll fight over (changes), but (the book is) going to happen and I think they want it to. I don't think there's any one thing that's going to sink it. We'll fight over it, and eventually, we'll get through it."
The companies' strategy
Some of companies' hesitation in participating in book projects stems from wanting to keep a competitive advantage and not release company secrets or strategies, said Paul Friga, associate professor at the Kenan-Flagler School of Business at UNC-Chapel Hill, who also wrote "The McKinsey Mind" and "The McKinsey Engagement."
Also, the book-writing process is long, and executives often balk at devoting so much time to something that doesn't directly benefit business, he said.
But there are some pros for the company to participate, Friga said — a book written about the company is free publicity.
And of course, cooperation gives the companies a chance to add their perspective to the story.
"I would say there are two things moving in the direction of more access: the understanding that you get to shape the stories, and the sense that if there's bad news, it's going to come out," Fishman said. "You really are better off talking. Whatever you're doing wrong, someone's going to tell that story eventually.
"If the NSA can't protect its most secret secrets from employees, what chance does Wal-Mart or Target or any of these companies actually stand?"
Nowadays, companies like Wal-Mart might give more access to business journalists, but there's often a catch. Some companies are now requiring public relations staff to be present during interviews with executives, Fishman said.
"That's just kind of chilling all the way around. That's not the kind of story I want to write. I don't want to write a story where someone's following me around and eyeing who's talking to me," he said. "That chills the sense of vividness that you want in a story."
Business journalists say they have come to expect the pushback from the companies, or the silence. It's part of the culture between companies and journalists. Some say it shows that journalists' work is relevant.
"I think the worst thing that could ever happen to you as a journalist is, someone just doesn't give a shit about what you write about them," Lee said. "If they don't care, that means you have zero impact on them."
Will is a senior business journalism major at UNC-Chapel Hill. She will intern this summer at Education Week and interned last summer with Reuters in New York.