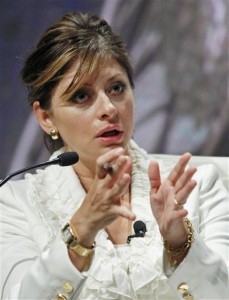 By Becky Bisbee
Maria Bartiromo: Hosts nationally syndicated TV show "The Wall Street Journal Report with Maria Bartiromo" and CNBC's "Closing Bell with Maria Bartiromo"; in 1995, Bartiromo became the first journalist to report live from the floor of the New York Stock Exchange daily.
Amanda Bennett: Executive Editor/Projects and Investigations  for Bloomberg News.  She was editor of The Philadelphia Inquirer from June 2003, to November 2006, and prior to that was editor of the Herald-Leader in Lexington, Ky.  Wall Street Journal reporter for more than 20 years. A graduate of Harvard College, she held many posts at the paper, including auto reporter in Detroit in the late '70s and early '80s, Pentagon and State Department reporter, Beijing correspondent, management editor/reporter, national correspondent and, finally, chief of the Atlanta bureau until 1998, when she moved to The Oregonian.
Margaret Bourke-White: One of Fortune magazine's first photographers.
Dorothea Brooks: Joined United Press International as financial clerk in 1946 and became its first female business editor in 1969; in 1987, joined PR Newswire, where she became vice president of member services.
Connie Bruck: Senior reporter for The American Lawyer; staff writer at New Yorker; authored "The Predators' Ball," about junk-bond king Michael Milken and "Master of the Game: Steve Ross and the Creation of Time Warner."
Susan C. Faludi: Won Pulitzer Prize in 1991 while at The Wall Street Journal for report on leveraged buyout of Safeway Stores that revealed the human costs of high finance.
Alix M. Freedman: Wrote for BusinessWeek and The New York Times before joining Wall Street Journal in 1984; won several journalism awards for her outstanding investigative work including the 1996 Pulitzer Prize for her ongoing coverage of the tobacco industry; won 1993 Loeb Award for story about how one Southern California family dominated the market for cheap handguns used by criminals; won George Polk Award for "Population Bomb."
Marian Glenn: Her column "Women in Business" appeared in the first issue of Forbes magazine in 1917.
Diana B. Henriques:  Joined Barron's magazine as a staff writer in 1986; hired away in 1989 by The New York Times; won the Goldsmith Prize and Worth Bingham for 2004 series "Captive Clientele," how insurance companies, investment firms and lenders have fleeced thousands of soldiers; cited in 2007 by the New York Financial Writers Association for "having made a significant long-term contribution to the advancement of financial journalism"; recipient of SABEW's Distinguished Achievement Award in 2012.
Susan Herera: Anchor for the fledgling Financial News Network in 1981; joined CNBC in December 1989 and co-anchored of its primetime "Business Center."
Arlene Hershman: Joined (Dun's) Business Month in 1967, covering Wall Street, economics and corporate finance and wrote a monthly column on investing; became assistant managing editor in 1980 and top editor in 1984, the first woman ever named to the top editorial post of a major business magazine.
Karen Elliott House: Won a Pulitzer Prize in 1984; served as foreign editor of Wall Street Journal from 1984 to 1989.
Wanda Jablonski: Started her career at Journal of Commerce where she served as oil editor; senior editor of Petroleum Week; founded "Petroleum Intelligence Weekly" newsletter, which has been credited with introducing investigative journalism to the oil industry.
Margaret A. Klein: First financial services editor then managing editor for Reuters in North America; in 1977, became first woman president of the New York Financial Writers' Association.
Eve Krzyzanowski: Joined FNN in 1985 as senior producer after serving as a producer at all three major networks; advanced to vice president of news programming and executive producer of "This Morning's Business," a half-hour business news program that was aired on more than 150 U.S. stations; left FNN in 1989; joined BBC Worldwide Americas.
Rieva Lesonsky: Began her tenure with Entrepreneur in 1978 as a research assistant; laid off in 1980 then rehired in 1983 to head research, became editor-in-chief; authored "Get Smart" and co-author of the books "Start Your Own Business," "Young Millionaires," and "303 Marketing Tips"; served on the Small Business Administration's National Advisory Council for six years; honored by the SBA as a Small Business Media Advocate and a Woman in Business Advocate.
Carol J. Loomis: Moved from editor of an in-house publication for Maytag to become research assistant at Fortune magazine in 1954; recipient of Gerald Loeb Lifetime Achievement Award in 1993; Loeb awards in 1974 and 1989; three John Hancock awards; a Newspaper Guild of New York Page One award; and a Hentz Award for Financial Journalism; SABEW Distinguished Achievement Award recipient in 2006.
Gretchen Morgenson: Wrote for Vogue, Money and Forbes magazine; after a two-year stint at Worth as executive editor, she was press secretary for Steve Forbes during his unsuccessful bid for president; returned to Forbes before joining The New York Times in 1998 as an assistant business and financial editor; won Pulitzer and Loeb awards in 2002 for writing on the inherent conflicts of interests between financial analysts and their firms; member of the team that won the Loeb for 1998 articles on the near collapse of Long Term Capital Management; author of "Forbes Great Minds of Business," and co-author of "The New York Times Dictionary of Money and Investing" and "The Woman's Guide to the Stock Market."
Linda O'Bryon: Co-founded and anchored of the "Nightly Business Report" on Miami's WPBT2 in 1979; eventually reached 275 PBS stations; recipient of SABEW's Distinguished Achievement Award in 2004.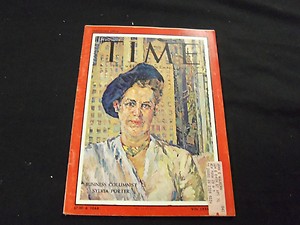 Sylvia F. Porter: Began writing personal finance column, "S.F. Porter Says," in 1936 for The New York Post; personal finance column "Your Money" was syndicated by The Los Angeles Times and appeared in 450 newspapers worldwide; wrote more than 30 books, including "Sylvia Porter's Money Book" in 1971 which sold more than 1 million copies.
Sally Powell: First woman senior editor at BusinessWeek, supervised four sections of the weekly: Labor, Social Issues, Transportation and Media & Entertainment, book reviews.
Jane Bryant Quinn: Syndicated personal finance columnist for Newsweek, business correspondent for TV news organizations; wrote "Everybody's Money Book," "Making the Most of Your Money," "A Hole in the Market"; received John Hancock Award in 1992; Loeb Award in 1995, Loeb Lifetime Achievement Award in 1997, an Emmy, three National Press Club awards for consumer journalism and two National Headline awards; named by World Almanac as one of the 25 most influential women in the United States.
Clare M. Reckert: The New York Times' first female financial writer and among the first women to break into business reporting; began her career in 1937 as secretary for the financial desk, writing using the byline of C.M. Reckert; covered disagreement between Howard Hughes and TWA, and Ford Motor's first earnings report when the automaker went public; retired at age 78 from the Times in 1981.
Eileen Shanahan: Covered price and wage controls imposed during the Korean War for newsletter; first woman reporter in The New York Times' Washington Bureau who'd been hired for any assignment other than coverage of the First Ladies; covered the Securities and Exchange Commission and major tax legislation; joined other Times' women in a 1974 class action discrimination case against the newspaper, which was settled out-of-court in 1977; in 1977 joined Carter administration as the top public affairs officer for the old Department of Health, Education and Welfare (now Health and Human Services); received University of Missouri Medal and the Colby College Elijah Parish Lovejoy Award for lifetime achievements.
Marty Steffens: First SABEW chair in business journalism at the University of Missouri; assumed the chair in 2002, after a 30-year career in newspapers, including executive editor of the San Francisco Examiner, and earlier the Press & Sun Bulletin in Binghamton, N.Y.; Steffens' two-year economic project in Binghamton, which inspired citizens to take a proactive role in planning the community's economic future, has been studied by academics around the world; She was an editor at the Los Angeles Times business desk; held other editing and reporting roles at the Minneapolis Star, St. Paul Pioneer Press, Orange County Register, Dayton Daily News and Evansville (Ind.) Courier.
Alecia Swasy: Wrote for Wall Street Journal in Atlanta and Pittsburgh bureaus; deputy managing editor at Virginian Pilot; business editor and assistant managing editor at St. Petersburg Times; assistant managing editor of Dow Jones Newswires; authored "Changing Focus: Kodak and the Battle to Save a Great American Company" and "Soap Opera: The Inside Story about Procter & Gamble."
Kara Swisher: Worked for The Washington Post; started covering tech industry for The Wall Street Journal's San Francisco bureau in 1997; co-produces and co-hosts D: All Things Digital, a major high-tech conference; author of "Aol.com: How Steve Case Beat Bill Gates, Nailed the Netheads and Made Millions in the War for the Web" in 1998 and the sequel, "There Must Be a Pony in Here Somewhere: The AOL Time Warner Debacle and the Quest for a Digital Future" in 2003.
Ida M. Tarbell: The original investigative business journalist. Her 19-part expose of Standard Oil for McClure's broke up that company; authored 10-volume "The Nationalizing of Business"; "All in a Day's Work," her autobiography in 1939; "The Early Life of Abraham Lincoln," with W.J. McCan Davis; "Life of Abraham Lincoln" in 1900; her "History of the Standard Oil Company" was chosen by New York University as one of the top 100 works of journalism in the 20th century.
Alena Wels: Authority on international monetary and banking issues at Journal of Commerce, where she started in 1970; eventually became paper's chief editorial writer.
Betty Wong: After five years at Wall Street Journal, joined Reuters in 1989 as rewrite editor, left 22 years later as global managing editor, overseeing editorial operations of 3,000 journalists working in 200 news bureaus around the world.
Karen Zehring: Founded, published and initially edited Corporate Finance magazine.
SOURCES: TJFR Group 100 business news luminaries of the century, 2000; SABEW, The Business Journalist archives, author websites.
Related:
Women Play Major Role in SABEW and Business Journalism
Women who Served as SABEW President
Dorothea Brooks 1923-present. United Press International