By Alex Dixon
Cutting staff has been a common trend for newspapers during the last several years. And business desks at newspapers aren't exempt.
In 2010, The Washington Post cut its standalone business section, so did The Miami Herald. More recently, in 2013, the Cleveland Plain Dealer did, too.
But some newspaper editors and reporters are bucking the trend, expanding business news coverage or even starting business news publications of their own.
The city or the publication?
Most mornings Greg Gilligan checks the Richmond Biz Sense site.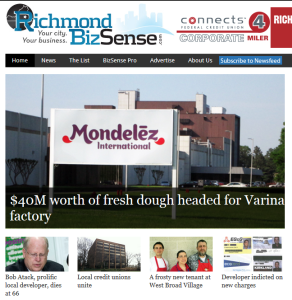 Gilligan, the business editor of the Richmond Times-Dispatch, is one of Richmond Biz Sense's biggest competitors.
"I think competition is good. It keeps us on our toes," Gilligan says. "We have far greater distribution both print and online. We scoop them a lot and they scoop us sometimes."
And while both publications report on business news, each has found a niche to fill in the Richmond, Va. market.
Aaron Kremer, who founded Richmond Biz Sense in 2008, says his site mainly caters toward local business owners and employees.
"You want to reach 140,000, then you pitch (Richmond Times-Dispatch) your story," Kremer says. "If you want to reach 15,000 movers and shakers, that's us."
Biz Sense doesn't even bother with the big companies.
"We like local companies," Kremer says. "We don't report on big companies. There's not much to say about them."
Gilligan cites a "fairly significant business community" in Richmond, with headquarters of several Fortune 500 companies, for the Times-Dispatch expansion of business coverage.
In 2008, the Times-Dispatch had a business section tucked inside the metro section. In 2010, Gilligan was named the business editor. And in 2011, the paper brought back a standalone section Tuesday through Saturday with one full page of stock information.
In Houston, Texas, things aren't much different.
When Nancy Barnes came in at the end of 2013 as editor of the Houston Chronicle, expanding business coverage was a main priority.
Laura Goldberg, business editor of the Chronicle, says the paper is currently filling positions for a banking and financial reporter, an investigative reporter to focus on energy companies, and a reporter to focus on big public companies.
Goldberg says there are a significant amount of Fortune 500 companies in Houston and an "appetite for business news among readers across all platforms."
And the Chronicle certainly has competition in Houston as it expands, with the Houston Business Journal, various trade publications covering energy companies, and with Reuters, The New York Times, Bloomberg and AP with bases there.
Julie Doll, business editor of the Wichita Eagle, said the Wichita Business Journal is physically across the street. She said this provides "healthy competition" on breaking news and on how and what the Eagle covers.
But while some markets are saturated with business coverage, Kremer said not every area is fit for these outlets.
"There's a bunch of factors," he said. "First, you have to have a flow of interesting business news."
For example, he said a market scope of specifically Chapel Hill, N.C., is too small for a business publication, whereas a business publication covering all of New York would be too big.
Bringing in Revenue
Doll says expansion of business sections has a high potential for probability.
In September 2006, the Eagle expanded from about a page to two pages every day and to an eight-page section on Thursdays.
"The business community has been real supportive of publications and news," Doll said.
It traces back to the roots these Wichita, Kan., businesses had in advertising with papers she said, some back as far as 100 years.
And she said it's about mutual support. For example, the Eagle posts a job section on its website to help Wichita businesses find employees.
Gilligan says that three-to-four days per week, the Times-Dispatch runs a two column, full-page ad to support the standalone section.
And while businesses' print advertising may help support the business sections, Gilligan and Doll said the advertising does not influence the content in any way.
While Biz Sense has no revenue from print advertising, it has diversified its sources through online ads, emails, and even community events.
Biz Sense runs a Daily Newsfeed, which is a daily email sent out to 13,000 subscribers, which Kremer says brings in a lot of advertising revenue.
Biz Sense also hosts community events, such as "Kitchen Confidential," a panel discussion with some of the most popular restaurateurs in Richmond.
Kremer said the events are lucrative.
Kremer said in a Talking Biz News article that this is where Biz Sense sees the biggest growth, in the form of selling sponsorship to these events.
"We use our news instincts to dream up topics we know will hook our audience," Kremer said in the article. "Then we tell the story live on stage."
Cutting Back
Gilligan said he thinks not prioritizing business coverage is foolhardy.
The two key things the public needs to know about are government and business, Gilligan said.
Kremer says the business beat is not a loved beat for daily papers.
"Sports and cops are the main strengths," Kremer says. "Business is not their bread and butter."
According to Show Me the Money by Chris Roush, just 38 percent of news executives say that business is a high priority in their newsrooms.
And when it comes time to prioritize, many newspapers aren't looking at the business desks.
In an article by Mitch Leff, president of Leff & Associates Public Relations, he writes "The recession decimated media companies. Staffs were slashed…in many cities the once-separated business section has been folded into other sections."
An article on Talking Biz News said that more than 250 business journalists lost their jobs due to media closings, layoffs or newsroom buyouts in the first six months of 2009.
Other Platforms
While the business cutbacks in 2009 may have been correlated with cutbacks in all newspaper sections, many papers are slow to refocus business coverage.
However, papers that once cut standalone sections are beginning to bring them back as the economy recovers.
The Baltimore Sun brought back its standalone section in 2010 and The Columbus Dispatch and Idaho Statesmen did in 2013.
In a column on the The Columbian's site, former business editor Courtney Sherwood wrote, "With so much uncertainty about the economy, business news is as important as it has ever been."
Even though the paper, based in Vancouver, Wash., has had to fold in the standalone section on most days, she wrote that the reporting quality is still the same.
And business coverage cutbacks in print may lead to more opportunities on other platforms.
The Columbian launched a blog called Strictly Business, with "details from reporters' notebooks and thoughts about how national headlines may reflect on us here," according to Sherwood.
In Savannah, The Savannah Morning News launched a tabloid with a separate website and Twitter feed, called Business in Savannah.
The publication features profiles of businesses and stories on business-related concerns as opposed to investigative pieces or breaking business news.
The Reader
For many publications, the average business-news reader isn't the average newspaper reader.
Doll said Wichita has a community built on "entrepreneurship and small business," and that the business news is structured more as a business-to-business section.
Kremer said local business people need what papers write and business desks don't always write with that in mind.
Gilligan said the Times-Dispatch has kept one full page of stock information in order to cater to the readers who like to view this.
Gilligan said it's a juggling act on determining business coverage on a local, national and international level but it is important to provide readers with local content. Around 70 percent of coverage is local at the Times-Dispatch, Gilligan said.
Kremer said he enjoys when he calls someone from a local business for coverage and they are already familiar with Biz Sense as a reader.
"People love to tell their stories, and they love to see themselves," Kremer said.
Dixon is a business journalism student at UNC-Chapel Hill's School of Journalism and Mass Communication