By William Leighton-Armah
William A. Doyle's "Investor's Guide," appeared in more than 100 newspapers and was one of the first financial columns that willingly answered the average personal investor's questions.
Doyle began writing his column in 1957 and also served as the business editor for the Newark Star-Ledger along with The New York Daily News. He was also vice president of public relations at Investors Diversified of Minneapolis for seven years. This change gave Doyle a chance to pursue another side of writing.
He later decided to go back to The Star-Ledger. Doyle died on April 19, 1996 from emphysema but was able to leave a lasting impact on business journalism.
Doyle graduated from Fairleigh Dickinson University in 1950 and went to the New York World-Telegram & Sun where he covered the stock and commodities markets. He is described as being a man who had knew the markets well and was determined to help readers understand the arcane work of brokerages and banks.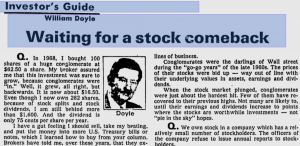 "Investors Guide" appeared five times weekly from 1981 to 1985 and Doyle was one of the first financial columnists to answer direct questions from readers. He was always interested in what would be in the best interest of the small investor and made sure to thoroughly answer those questions.
"Doyle was a hard-nosed business reporter and editor," said Myron Kandel, founding financial news editor for the Cable News Network.
NJBIZ.com reporter Beth Fitzgerald, who began working at The Star-Ledger at age 21, described Doyle as being the role model that she needed in order for her to become the columnist that she is today.
Fitzgerald said, "What I needed at the time was a mentor. I started out as a police reporter and switched to financial reporting to work with Bill Doyle."
Those who had the opportunity to work with Doyle describe him as a person who was accessible and knew everyone in the business. Doyle was a man who was skilled at getting through the fluff and self-serving nature of the business while always having a sense of humor which often times came off in his columns.
Fitzgerald started working at The Star-Ledger in 1974 and learned how to ask the right questions in order to get at the truth. She said, "Bill Doyle taught me to be skeptical and work hard, we were working in a time when there was no Internet and most high level businessmen could better shield themselves from journalists."
Fitzgerald worked with Doyle until 1981 and stressed Doyle's positive impact on who she is today.
Kandel said, "Bill Doyle was one of the pioneers of answering the questions of everyday people. He took his job very seriously, and even if you did not know Bill well you knew how well respected he was in the industry."
"Investors Guide" provided information for ordinary people and was able to inform millions on brokerage and finance. Answering these personal finance questions differentiated his column from writing intended only for the informed investor. Although the practice that Doyle pioneered is common today, if it were not for the success of "Investors Guide" people might not have begun to take personal finance columns seriously.
Kandel said, "Although I did not know Bill Doyle very well, I know about the impact he had on our industry. He was willing to do something that others were not interested in doing at the time and made it work. He was a serious journalist that had the gift of being able to explain complicated financial situations in a clear a precise way."
"Investors Guide" became a reliable aid for personal investors. Doyle revolutionized business journalism and is a major part of how journalist do their jobs today. People such as Jim Cramer are now doing exactly what Doyle started more than 30 years ago.
Although Doyle has not gotten the most attention for his work in the field, those who have studied the evolution of business journalism know the impact that was made by Doyle's work.
William Leighton-Armah attends the University of North Carolina at Chapel Hill and is in the class of 2013. He is a native of Boyds, Md., and majors in business journalism.
Editor's note: Doyle wrote a 20-year history of SABEW in 1984. It can be found here.